Let's Decrease your Vestibular Symptoms from Home
A vestibular-therapist designed, step-by-step, holistic approach to managing your vestibular symptoms from home.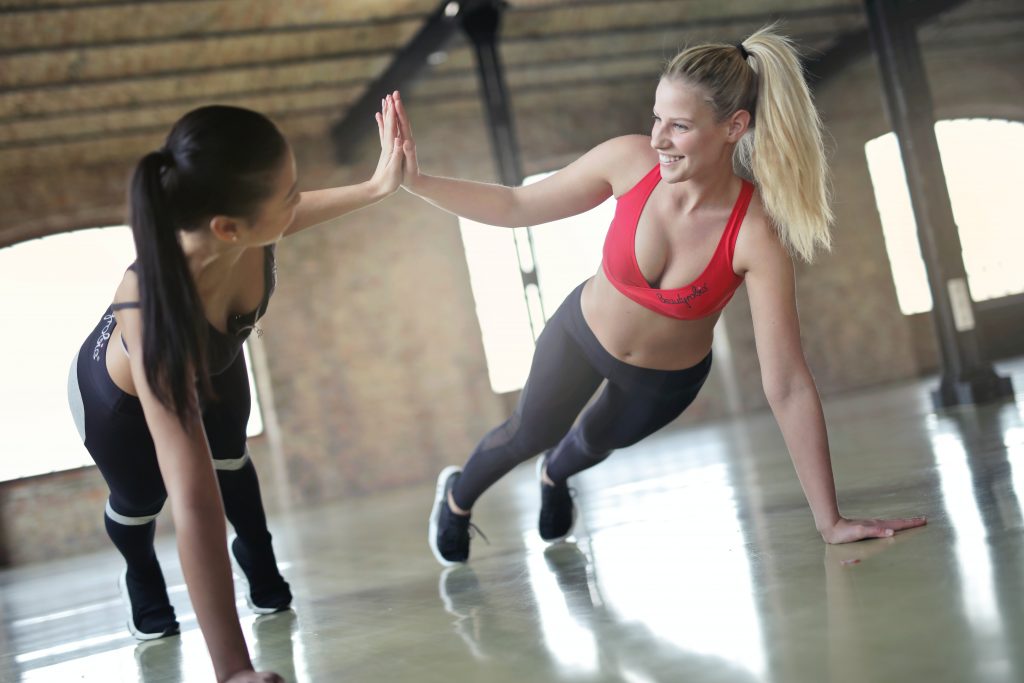 Are you ready to learn how to improve your vestibular symptoms from anywhere in the world?
If you want to
Feel comfortable in busy environments
Be able to go to the grocery store
Drive your kids to school without dizziness
Handle extra work and family stress
Vestibular Group Fit is right for you
We Operate on Three Pillars of Success
Biweekly educational modules
six modifiable workouts per week
a Facebook group dedicated to what you CAN do
Let Us Help you Take Control of your Life Again
Being symptom free can seem impossible for some with a history of vestibular dysfunction.
But, here's what we know about exercise:
Those who participate in exercise have less dizziness than those who do not
Exercise stimulates your vestibular system to prevent and treat dizziness
Exercise prevents migraine attacks
Exercise prevents vestibular attacks

Cynthia started her journey with Vestibular Neuritis that turned into Vestibular Migraine, and did not have access to Vestibular Rehabilitation Therapy. Vestibular Group Fit alone is accessible and affordable, and gave Cynthia her life back.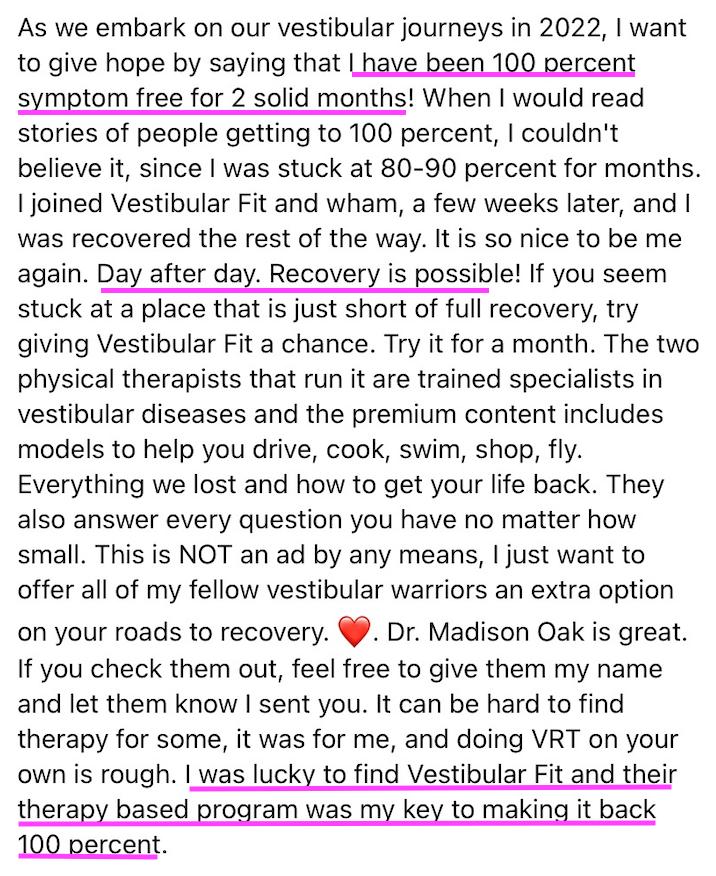 Want to Try a Free Class?
What is the Best Natural Treatment for Vestibular Dysfunction?

Exercise
The most effective natural treatment you can use, that has absolutely nothing to do with medication or something else you need to take is EXERCISE. 
It's so common for people to stop exercising and moving when you're first diagnosed, but it's just restarting that's really hard. 
Starting can be the hardest part, but with Vestibular Group Fit, you can start slowly and build on your progress. The biggest focus of Vestibular Group Fit is to do what feels right for your body.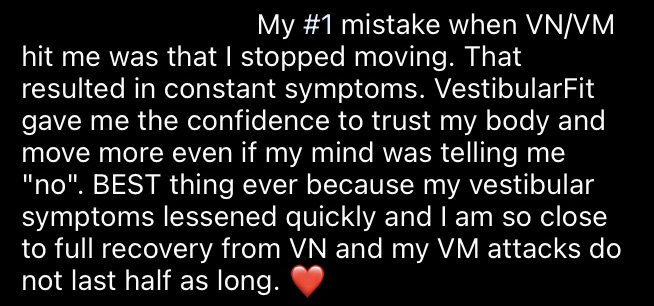 Why I Became a Vestibular Expert
Hi, I'm Dr. Madison and I am 'The Vertigo Doctor'. It's my job to help you feel like you again – even after your vestibular diagnosis. 
Vestibular disorders are vast, complex, overlooked, poorly understood, and frustrating. In school, I had the opportunity to complete a vestibular therapy internship and that's when I decided to become a Vestibular Specialist. 
During that time, I met so many vestibular warriors, like yourself, fighting through their vestibular symptoms every single day. There are poor resources and almost no clear steps to healing with a vestibular disorder.
I love everything about the vestibular system, and even more than that, I love teaching you about your vestibular system. And, from what I've found working with clients, movement is one of the biggest helps for those recovering from vestibular symptoms. 
I believe that you should be able to thrive with a vestibular disorder.
So I created Vestibular Group Fit for you to do exactly that!
Why I Created Vestibular Group Fit
Throughout my career as a vestibular physical therapist, patients have come to me, time and time again, saying:
"I am too dizzy to drive my kids to school"

"I stopped my VRT exercises, and I'm dizzy again"

"I haven't worked out in years, but I'm much too dizzy to start!"

"My doctor isn't listening to me, they said I made it up in my head"

"I got discharged from Vestibular Therapy, what do I do now?"

And so much more!
So, to solve all these problems, and help you continue to heal your vestibular symptoms, I created Vestibular Group Fit. The only place you can find movement, support, and education to holistically heal your vestibular disorder from home. 
Six workouts a week
Return to distance walking/running protocol
Monthly balance challenge

Positive and understanding support group



Access to all educational modules & workouts from the past
Biweekly educational modules including:
How to lay flat
How to decrease & manage fatigue
How to manage and treat cervical pain & dizziness
How to navigate social situations
How to manage and treat visual vertigo
& more!
This is more information than you receive in vestibular therapy, in your medical appointments, and from other resources all in one place. 
My goal is to give you the tools to feel like yourself again.
Whether you have already done vestibular rehabilitation therapy (VRT) are in the middle of VRT, or have never tried VRT, Vestibular Group Fit can help you grow and thrive with a vestibular disorder.
Does it Work?
Yes! Let's look at the case studies!
Have You Ever Wanted to Go to Dinner with Friends Without Thinking About It?
You shouldn't be losing days with your loved ones to dizziness and vestibular disorders.
You should be able to walk out of the house, go to dinner, come home, and realize that you are feel good, but maybe tired. We are all tired after a group dinner. 
By introducing Vestibular Group Fit, Heather was able to increase her independence and improve her confidence, while reducing the overall response to sitting in the restaurant. . 
Do you have Trouble Getting to the Grocery Store?
I am lucky enough to be on the receiving end of successes like these every single day. 
Nothing in the world makes me happier than a vestibular success, and the grocery store is one of those successes that can feel impossible. 
From just a few weeks of Group Fit, these members were able to do an entire grocery shopping trip to one of the most massive and stimulating stores in the world!
Imagine getting up, taking a trip in the car, driving to Costco, shopping around, waiting in line, and being able to drive home. 
All without getting dizzier. 
This can be you!

Even if your symptoms are chronic, you can use class to help you feel better.

Nichole is a mom who has chronic vestibular migraine symptoms and attacks.
Chronic vestibular symptoms can feel impossible to manage, and even after years of managing they can feel frustrating and make you feel like you aren't able to move around safely and comfortably. 
Vestibular Group Fit is completely modifiable, meaning it can be done at any level. It's designed to reduce your symptoms. This workout will leave you feeling better than when you started! 
This System is SO Effective, it Can Even Get you Back to Driving!
Vestibular Group Fit will get you back to moving and grooving, as well as to driving. 
Group Fit's Visual Vertigo module will help with driving, by improving your tolerance to busy visual environments and starting practice with videos before all else. 
Amanda is only 7 weeks into Vestibular Group Fit and not only is she having an easier time moving, but she's also back to driving! 
You are going to learn how to drive again – imagine being able to pick up your kids from school without questioning if you're going to be able to make them dinner later, too!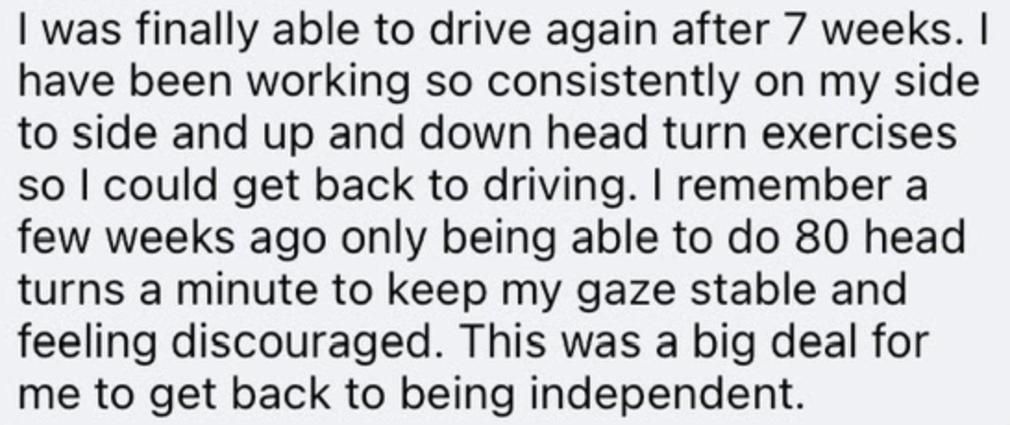 This Simple Program Will Get you Back to Feeling Like Yourself QUICKLY... All you Have to do is Join Us!
We Only Talk About Holistic, Natural, Treatments in Vestibular Group Fit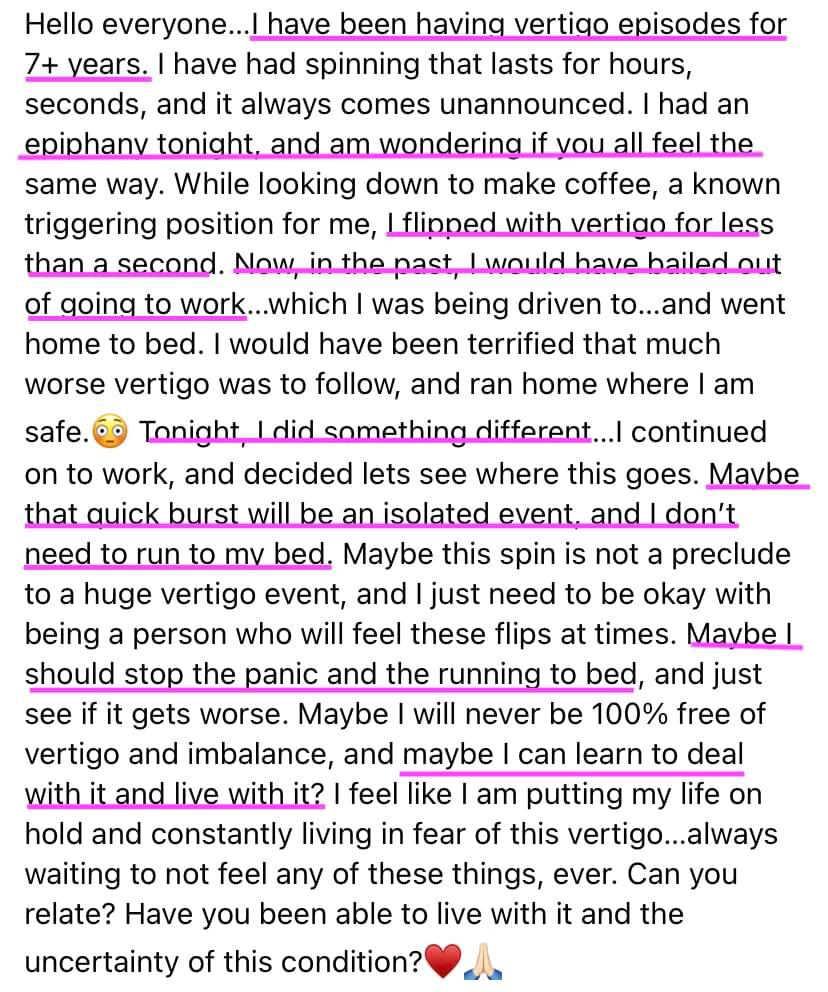 Mindfulness is One of My Favorites
Mindfulness is one of those hot topics you may feel fills up too much airspace in 2022. 
But, mindfulness really has a lot going for it. 
Mindfulness and creating an objectivity around your symptoms will help you change your mindset surrounding your vestibular dysfunction. 
Reframing the thoughts surrounding your symptoms can give you a whole new lookout on life. 
The Mindfulness module gives you incredible way to reframe your thoughts and feelings about your symptoms. 
Through our mindfulness teachings, Olivia was able to change her mindset about vertigo. Maybe, although spells are a part of her life, they don't have to run her life – she can be in charge of her response to the symptoms. 
Vestibular Group Fit is Available World Wide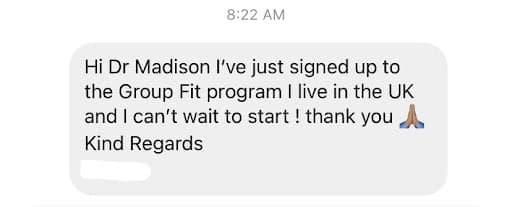 I believe that no matter where you live, you should have access to excellent Vestibular resources.
Anywhere from the US and the UK, to India and Africa, Vestibular Group Fit is available. 
All you need is wifi and a device to access the recordings. 
It doesn't matter what you have heard from other providers, there are ALWAYS options for you!

Vestibular Group Fit is that Option!
when Carie was impacted by Vestibular Neuritis on June 27th, she was unable to receive medical help.
There are not enough options for those with vestibular diagnoses no matter where you live, but especially if you live in a rural area. 
You may have been told there are no options for you, or that you're making it up in your head. 
I am here to tell you you're not crazy, you're not making it up, and you CAN heal. There are always options for you.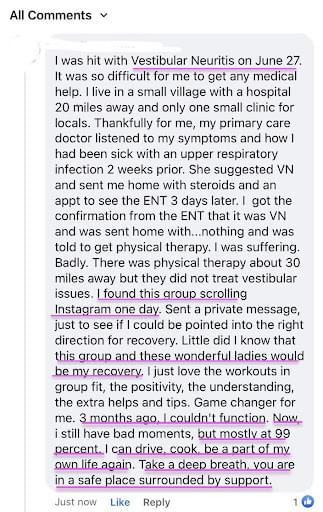 Want to Try a Free Class?
I have put together a constantly growing library of information designed to help you understand and treat your dizziness safely. 
Vestibular Group Fit is a completely online, from home, program designed to decrease your dizziness, improve your balance, and get you back to the activities you love.
When you sign up, you receive all the content I've ever made, and get access to future content as it's posted. 
Here's what you get:
• One monthly balance challenge
•  Two Premium Content Modules per month designed to educate you about how to heal your vestibular system 
           – How to prevent and treat fatigue
           – How to cook without getting dizzy
           – How to treat visual vertigo
           – How to lay flat without dizziness
           – How the vestibular system works and how to challenge it
• Six workouts a week – three pre-recorded and three live workouts per week!
• A support group through Facebook focused on what you CAN do, 
• Monthly strength challenges 
• Constant discussion about vestibular symptoms and how you can make them better (and how we can help!)
• Click the button below to get started now.
The Sooner You Start, the Faster You'll Heal
Most people see results in the first few weeks, but some see results as quickly as 4 workouts (that's just about 1 week)! 
That's huge! Imagine decreasing your vestibular  symptoms within a few weeks! 
What would you be able to do more easily? Work? Drive? Spend more time with your family? It's up to you!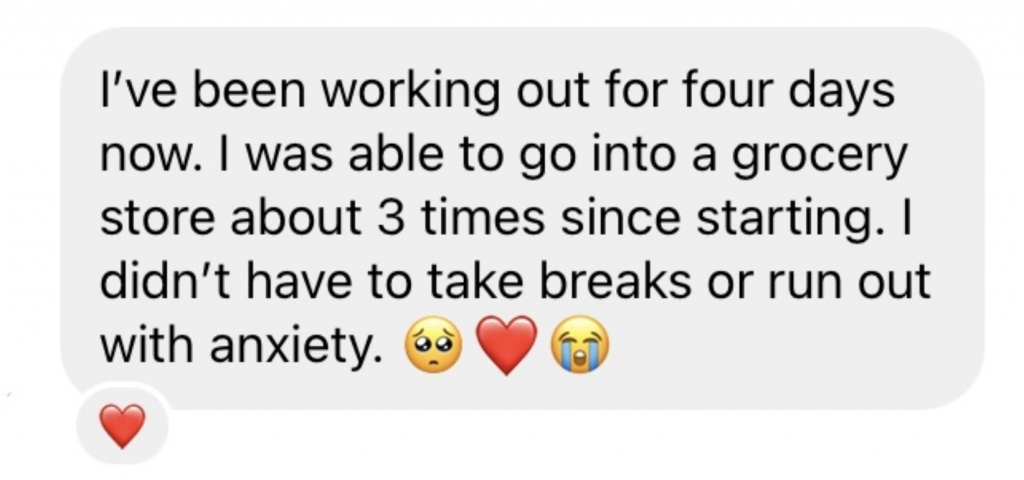 It doesn't matter what you have heard from other providers or vestibular warriors, there are ALWAYS options for you! And Vestibular Group Fit is that option for you.
No matter where you are in your journey, if you've been told you can't get better, if you haven't found a doctor who believes you, if you don't have the right healthcare in your area, this is the answer for you. 
Even though our member Tori has a doctor in her area, traditional therapy was not working for her. Since joining Vestibular Group Fit, she has had much more success than she has in the past with neck pain, movement, and more! 
You can be like Tori!
Vestibular Rehabilitation Therapy is Expensive, Vestibular Group Fit is not.
I am a vestibular therapist, I have a clinic where I practice 1:1 VRT with clients. 
I am an out of network provider, I have also been an in-network therapist before. I have seen it all, but no matter what, being on the receiving end of therapy is expensive. 
Most vestibular physical therapy sessions range from 25-200/hour, or even more.
If each copay is $25 (which is average) and you see your therapist 4 times/month, that's $100/month. Now, I'm not saying to quit therapy with your excellent vestibular therapist. I would never do that – I am a big believer in VRT, that's where I started (and still am!). 
But, Vestibular Group Fit is meant to be a way you can receive care for cheaper than your copay for SO much information. 
My goal is to give you more information in 1 month that you can get in 4 visits to your regular physical therapist – I know how much you can get, because I am one. All of my patients are both Vestibular Group Fit members and do their VRT exercises.
Join us Today, Start Feeling Better Tomorrow.
Vestibular Group Fit is the fastest, safest, most affordable holistic vestibular system program.  
Joint Us Today
Want to Try a Free Class?