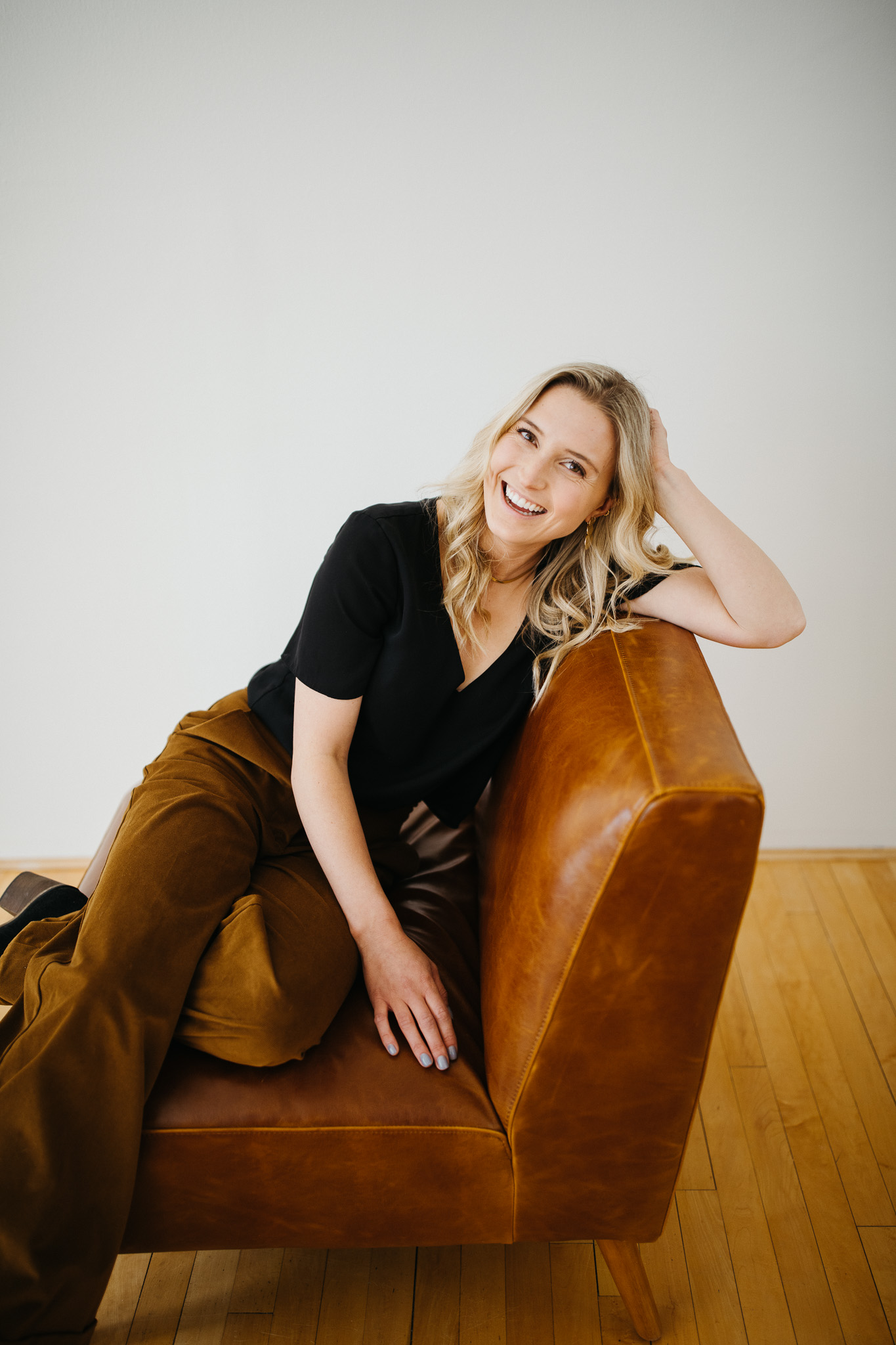 Accessible, affordable care for people with vertigo, vestibular disorders, and dizziness
At The Vertigo Doctor, we believe that everyone with vertigo, vestibular disorders, and/or dizziness deserves answers. We also believe those answers should be accessible and cost-effective.
Dizziness and other vestibular symptoms don't need to be difficult, expensive, frustrating, and scary. While dizziness feels complex, it can be simplified. And it can cost less than $2 a day to treat.
We Created Vestibular Group Fit for People like you - and beth!

One day, a woman named Beth came into our office, dizzy from the subway ride from Brooklyn to Manhattan. She was crying in frustration, and in a spiral from the anxiety and dizziness. 
Her words to Dr. Madison were: "I just got diagnosed with Vestibular Migraine, everyone keeps telling me I am going to lose my job, my mom can't fly to see me because of COVID, the internet is terrifying me, and I think nothing will make it better." 
Dr. Madison knew at that exact moment that something had to change; there had to be another way. That moment is how Vestibular Group Fit was born. Vestibular Group Fit is our group therapy program, designed to help you learn more about your condition and how to manage it — for just a couple dollars a day.
Want to work with our team of vestibular experts?
Want to learn more about your vestibular condition and find ways to manage your symptoms? We're here for you!
If you want comprehensive resources from Dr. Madison and her team, join Vestibular Group Fit.
You'll get access to in-depth educational presentations and 5-6 weekly workouts, including Tai Chi, dance, ballet, yoga, strength, meditation, and Pilates. 
Dr. Jenna is licensed in Minnesota and Wisconsin and is currently accepting telehealth patients for physical therapy. Contact her today.
Dr. Madison is licensed in California, Maryland, New York, New Jersey, Virginia, and Wyoming. Contact her today for VM or PPPD treatment only.
Those who are already Vestibular Group Fit members can also request a 1:1 coaching consultation with Dr. Madison to see how you can use Group to your best advantage internationally.

Hi, my name is Dr. Madison Oak and I am a Vestibular Physical Therapist, and the founder of The Vertigo Doctor, vestibular group fit, & Oak PT & Wellness.
I graduated with my Doctor of Physical Therapy from the University of Wisconsin – Madison and quickly realized I was fascinated with the vestibular system. Quickly after, my obsession with vestibular migraine was very apparent. Vestibular symptoms and disorders are difficult to describe, complicated to diagnose, and lacking in understandable patient and clinician resources. That's why I started The Vertigo Doctor – I want to help you find better answers and superior vestibular care. Dr. Madison Oak started Oak Physical Therapy & Wellness to provide excellent and accessible telehealth vestibular PT to anyone who is in need. I have a Certificate of Competency in Vestibular Rehabilitation, and consistently keep myself up to date on all the newest research. If you have a question, or think you could benefit from Vestibular Rehabilitation Therapy, please reach out, we would be happy to help! Currently, I am licensed in: California, Maryland, New York, New Jersey, Virginia, and Wyoming. Find me in Vestibular Group Fit!
Dr. Madison Oak
PT, DPT, CCVR
Hello, my name is Dr. Jenna Green, and I am a physical therapist with a special interest in vestibular therapy.
I first learned about and grew increasingly interested in the vestibular system while earning my doctorate in physical therapy from the University of Wisconsin - Madison. In school, I was fortunate enough to immerse myself in vestibular PT during two clinical rotations and have since continued to learn by completing my Certificate of Competency in Vestibular Rehab in 2021.
I am based in Minneapolis, working in both vestibular rehab and home health. I'm fortunate to practice in two very different settings and combine my experiences to tailor programs based on each person's daily routine, needs, and resources. I'm excited to be a part of The Vertigo Doctor and the Vestibular Group Fit community to continue providing resources, education, and individualized care with you in mind.
If you are interested in online physical therapy services, general fitness, or just not sure what's the best fit for you, reach out, and we can help answer your questions!
You can find me in Vestibular Group Fit teaching Tai Chi & strength or in our telehealth VRT clinic in Minnesota and Wisconsin for physical therapy services.
Dr. Jenna Green
PT, DPT, CCVR
.
Hello, my name is bridgette jensen, and I teach Dance & Ballet in Vestibular Group Fit
I started dancing at the age of 3 in Tucson, Arizona where I trained in ballet, jazz, modern, tap, contemporary and pointe. I spent summers training with prestigious faculty at Alonzo King LINES Ballet and Modas Dance. I graduated Summa Cum Laude from the University of Arizona with a Bachelor of Fine Arts in Dance, a minor in Spanish and a minor in Information Science and eSociety. During my time at University of Arizona I performed works by renowned choreographers such as Paul Taylor and George Balanchine. I was a company dancer for Hawkins dance during the 2018-2019 season where I performed in an evening-length work as well as many community performances. After graduating in 2021, I developed Vestibular Migraine and Persistent Postural Perceptual Dizziness, putting a pause on my dance career. After having spent a year focused on improving my condition, I am excited to have the opportunity to teach dance in Vestibular Group Fit and to share her love and knowledge of ballet with others who also have vestibular disorders. You can find me in Vestibular Group Fit teaching Dance & Ballet!
Bridgette Jensen
BFA Dance
Hello, my name is Candy Price. I teach Vestibular Group fit yoga & pilates!
I have spent most of my adult life exploring all topics related to wellness. I grew up in a small town in North Carolina and worked many years in the healthcare field. My years of experience working with cancer patients always kept me focused on achieving the most health possible in mine and my family's life. Currently, I work as a wellness director at a community of mostly retirees. In addition, I am very fortunate to offer freelance yoga sessions to companies such as The Vertigo Doctor. Without a doubt, my passion is to make yoga and other movement practices accessible and achievable for all. I love to develop classes that work with people and their limitations so they can feel empowered while finding more ease in their bodies. I feel very fortunate to be a part of Vestibular Group Fit by offering my yoga, pilates, and meditation sessions. Furthermore, I recently started a wellness blog in the hopes of offering my healthy habits on a larger scale. My blog can be found at www.harvestinghealthandhappiness.com.

My credentials include: 200 RYT Yoga Teacher, Certified Personal Trainer with NASM, Ayurveda Certification, and an Associate of Science Degree. You can find me teaching Yoga, meditation, & Pilates in Vestibular Group Fit. When I am not working, you can usually find me hiking, biking, or gardening in my beautiful home in the NC Mountains.
Candy Price
YT 200, NASM, Ayurveda Certification
Hello, my name is Kelsey Voskamp and I teach high intensity and advanced classes!
As a fellow vestibular warrior with vestibular migraines, Kelsey is so excited to empower others in VGF. Kelsey began experiencing dizziness symptoms in 2018 which was completely life altering. Though formally diagnosed in 2020, Kelsey refused to let VM hold her back any longer in life and took control of her health with nutrition, exercise, and natural healing modalities. Kelsey changed the trajectory of her life to focus on health and wellness, and earned a black belt in taekwondo. Kelsey and her husband own a martial arts dojang where they teach people of all ages to embrace the mind-body connection and find their inner power. Kelsey loves teaching advanced classes to VGF members. Strength training was a key component to her own healing journey and helped her get to where she is now.
Kelsey find freedom and strength in fitness, not only training in martial arts, but also lifting heavy weights, biking across states, running 5ks, and hiking mountains. She is a fitness trainer, reiki healer, meditation guide, writer, historian, and dog mom.
Kelsey Voskamp
Taekwondo Blackbelt, Fitness trainer, Reiki Healer
Hello, my name is Trineta Bhojwani and i teach low intensity and POTS Classes!
Trineta is a vestibular and neurological physiotherapist based out of British Columbia, Canada. After graduating from Mcgill University she pursued additional training in rehabilitation of Dysautonomia, Vestibular, Concussion, Movement and functional neurological disorders. She leads a Dysautonomia and Concussion program in Vancouver and has also actively engaged in clinical research presenting her work at several conferences globally. Trineta has a strong passion for helping those with chronic conditions thrive, and believes an active approach powered by education can go a long way! Standing by her philosophy of 'motion is lotion' she hopes to aid individuals unlock their highest potential. Outside of work, you will find her exploring the many gorgeous hikes across BC and maybe enjoying a beautiful sunset on a not so gloomy day in Raincouver!
Trineta Bhojwani
Physical Therapist, neurological and dysautonomia specialist
1:1 Vestibular Rehab Therapy Pricing
We are an out of network clinic completely via telehealth.
The evaluation is 1 hour and the cost is $325. Follow ups are 45 minutes and $225. 
If you have out of network insurance, sometimes your insurance will reimburse you with the super-bill after your appointments if you choose to submit the super-bill to your insurance. We do not guarantee reimbursement.
Vestibular Group Fit gives you access to all the same resources as 1:1 therapy but in a Group setting rather than a 1:1 setting.
The cost is $55/month and you may cancel anytime (price going up to59.99 on June 1!)
Nothing in Vestibular Group Fit is medical advice.
To learn more about Vestibular Group Fit, click here.
I hope that the information here helps you to start asking the right questions and assists you on your path to recovery.